Mean of transportation: Bicycle
Price: 15 usd/ pax (if you have from 2-3 persons)
10 usd/pax (if you have 4 persons or more) for Organization, bicycle and English speaking tour guide, "Not including food"
The food tour will normally start at 6:30 pm every night.
Experiencing foods and drinks is one the the best way to know more about the culture of a country. By having a real food adventure with us, you will get authentic foods which are made for locals not tourists and more interesting, you get to eat side-by-side with the locals; knowing about their stories, daily work and life is also very meaningful. We mainly focus on street food, dishes that most people outside of Vietnam may not have chance to experience. These foods can hardly be found in big restaurants. You will be much surprised because the foods are really delicious but the price is so acceptable!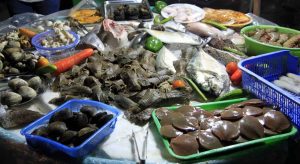 This Can Tho food tour starts in the late afternoon at Kim Long hotel. From here you will be introduced not only about local people's favorite foods, which are sold in many popular street stalls and in hidden alleyways of the city, but also about the Vietnamese culture, custom, religion as well as historic stories on the corners we pass.
Here we give you the list of the recommended foods.
Here we give you the list of the recommended foods.
Deep fried fish tofu stick and beef snack balls(7,000 VND)
"Banh Cong" (10,000 VND), a Can Tho traditional pie cake made from a mixture of mung beans, little shrimp and minced pork, which is steamed and then deep fried in a flour dough.
"Nem Nuong" – pork BBQ rolled up in rice paper with rice noodles, lettuce, thin banana slices, Asian basil, mint, pineapple, coriander, fresh herbs and leaves. This is a really healthy street foods option that you can dip in a yummy sweet-spicy sauce. (20,000 VND/portion)
"Phong Dinh" beer – a local beer of the city. The brand name "Phong Dinh" is also the name of the city in the past.
5. Sticky rice "Di Map" (Jie map) – made with different ingredients that result in yellow or pink color with toppings and dried coconut. (6,000 VND)
Fruit smoothies (15,000 VND) – made from tropical fruits of the delta. Another option is "Ca Phe Da", "Tra Sua Tran Chau" – popular street drinks among locals and students.
Outside barbecue – There is a local night market from other side, it is about 4 kilometer from here. There are a lot of dishes like sea food, snails and many kinds of local fruits. You can feel the atmosphere of the real local market, of course it is not standard like in the restaurants but it is really fresh, delicious and cheap.
As we have dozens of locations and hundreds of street food stalls in the city, we can adapt the tour to the preferences of our daily groups. There is an option of a Vegetarian tour or an "Out of the ordinary tour" available where you can try rather strange food like grilled field mice, snakes, frogs or snails.
Each of our unique food tastings is combined with fun insights and anecdotes on food culture and local traditions. After having great foods, we will take you to Tiny Cafe – a great place to meet many young English speakers. This café is rated as the best coffee shop for foreigners visiting Can Tho city, which opens in 3 scheduled days of the week. Here you will have chance to make friends with Can Tho students who are very friendly and active.
We feel sure that you are going to experience a real FOOD-EXPERIENCING TOURISM in which you can enjoy not only a lot of delicious and inexpensive dishes, but also many beautiful sceneries of the city that other tourists may ever have chance to see.
Please fill the form below to start booking this tour